Geldmaat is a company that was founded by 3 major Dutch banks: ING, ABN AMRO and Rabobank. Its purpose is to manage the banks' new collective ATM network in the country. A new brand and visual identity were created for Geldmaat, and in 2019, the process of turning all ATMs belonging to the 3 banks into Geldmaat ATMs, began.
As this was a transition that was going to affect everyone in the Netherlands, our challenge was to create awareness and making Geldmaat's online information accessible to everyone. So, we got down to business.
Our solution: 3 online touchpoints, one shared technology
We wanted to make any kind of access to Geldmaat easy and approachable. At the end of a solid exploration process with Geldmaat, we decided on creating 3 online touchpoints.
New website
First, a corporate website. Users are greeted with the new brand, and can find information about the transition, that's relevant to them, all the way to a local level. Geldmaat wants everyone to be able to get to information on their new ATMs easily. We tested and validated user accessibility to make sure the customer experience for anyone with and without disabilities was flawless. Take a look: https://www.geldmaat.nl/

ATM locator
Then, we developed an interactive ATM locator app. People can stay up-to-date on the current transition, and find new cash points closest to their location. Together with Schuberg Philis, we built a realtime API that unlocks all the ATM's information for users of the locator app, as well as for software developers and monitoring systems within the 3 banks. Have a try and look for a Geldmaat! https://www.locatiewijzer.geldmaat.nl/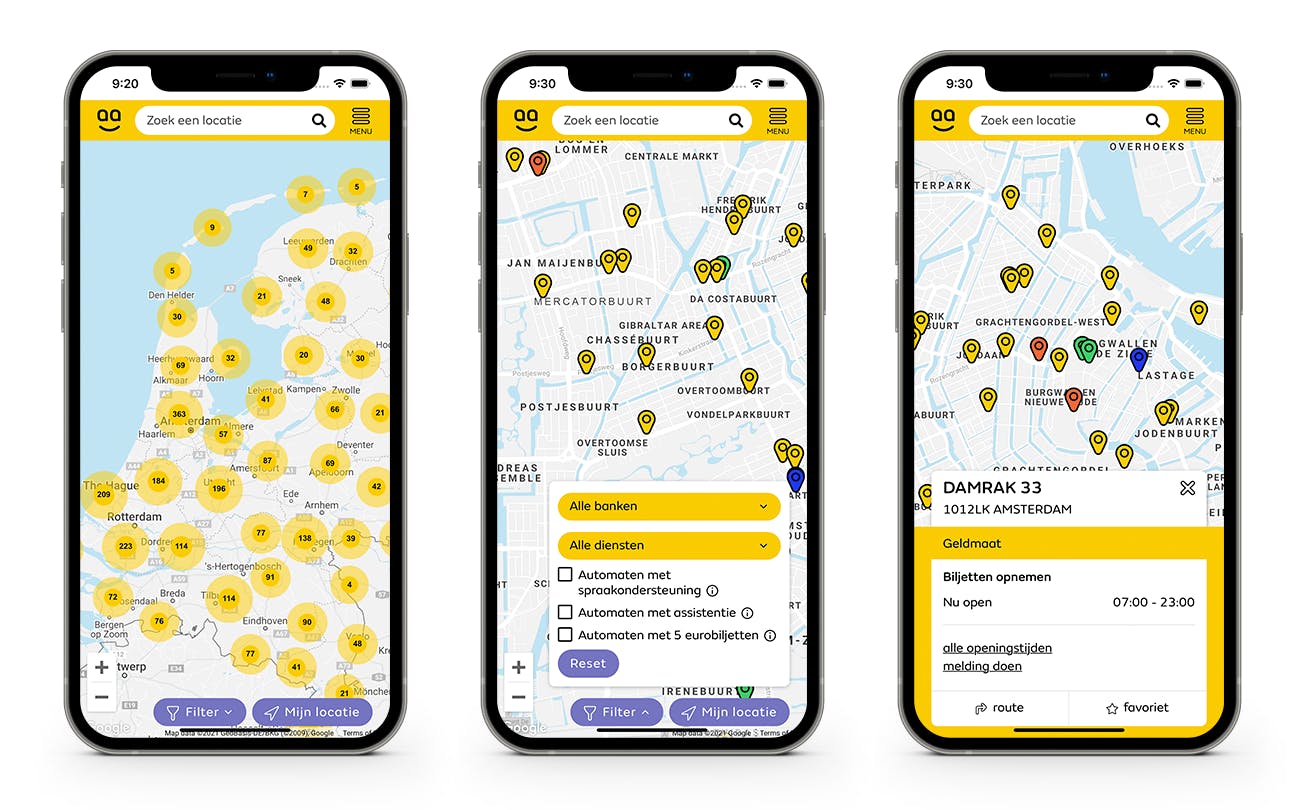 Career website
Finally, as Geldmaat is growing their team to keep up a high-quality customer experience, we built a dedicated company career website. New people, new roles and challenges. Interested? https://www.werkenbijgeldmaat.nl/
Same technology underneath it all
All 3 touchpoints run on the same content management system (CMS), so all content can easily be maintained from one source. With the Vue single-page application framework, we created a refined user experience that is based on a shared library of components. Great for maintenance, development speed and a consistent look and feel. We then plugged in Nuxt.js to render these sites statically, for performance gains, and for an excellent SEO.
Geldmaat wants everyone to have an easy access to its new network. And so do we. Online, on the street, or looking to join the team. With these 3 new touchpoints we created, we're now banking on you for a great customer experience!
Do you have a website you'd like to make accessible for everyone? Contact us so we can talk about your project.