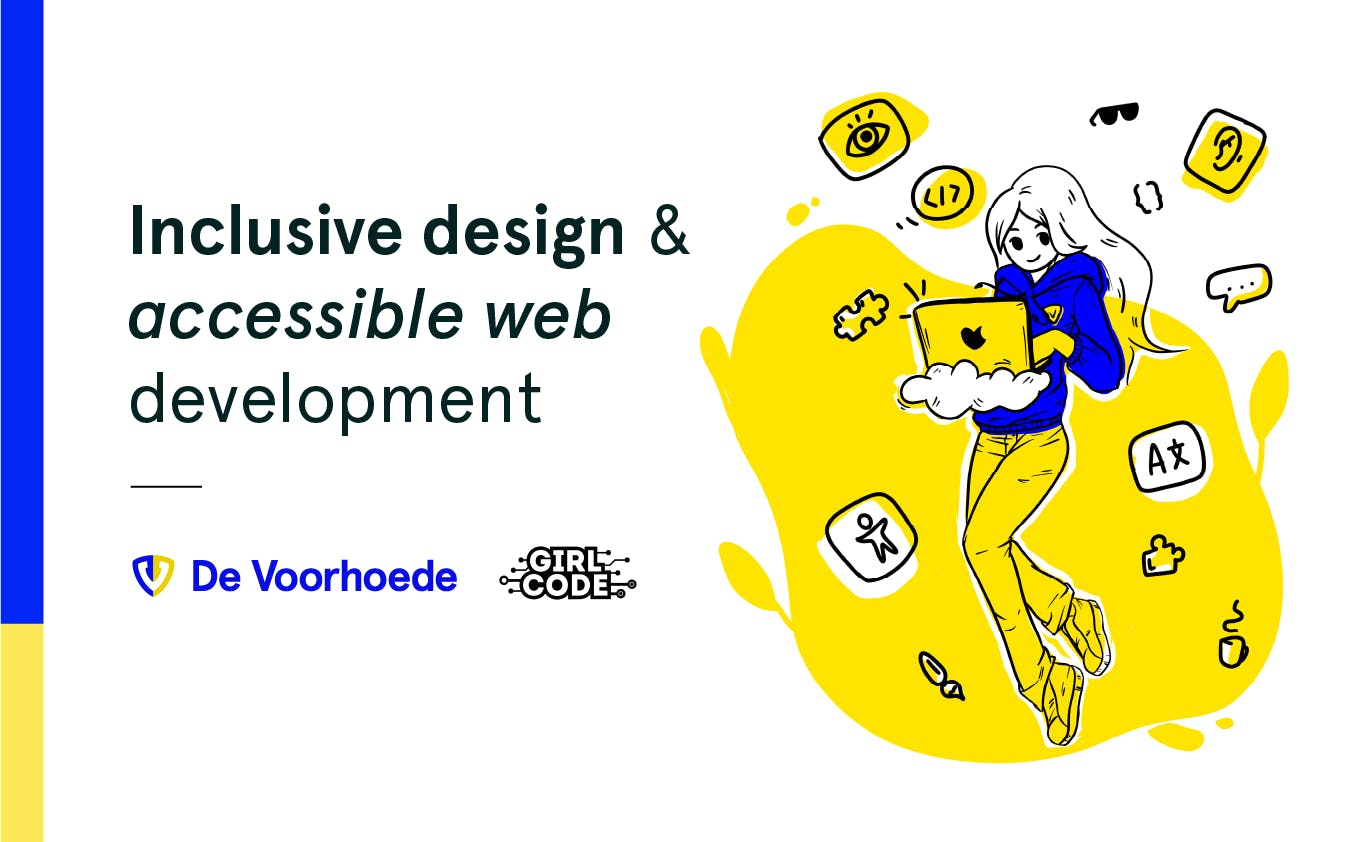 Girl Code Meetup
On 16 March 2023 we're hosting a Girl Code Meetup at our office in Amsterdam. We'll be talking about inclusive design & accessible web development. Join us!
Inclusive Design & Accessible Web Development
Inclusive design is about designing a website without assumptions and biases. A usable website for all users, not excluding anyone because of their temporary or permanent circumstances: like a disability, impairment, background or education. There are tools available to test your designs, but no tool is able to cover all bases. So, to be an inclusive designer you need greater understanding of all kinds of limitations a user can face on the web. And then as a web developer you have to know how to implement it in your code. An interesting topic, that because of lame reasons like budget, doesn't seem to get enough (or any) attention anywhere where applications are built. Even though time and time again it's proven that attention to accessibility and inclusive design makes a better app for all users, also the ones we assume have no excluding circumstances using your website at all. Tonight we hear and learn from developers who did pay attention.
"As a front-end development agency we want to contribute to a better web and a better world. Starting with our own workplace. We believe that differences make us stronger and we're committed to creating an open and inclusive culture. That means making sure all our unique perspectives are heard, valued and celebrated. We have a dedicated project team that focusses on diversity, equity and inclusion. Making improvements happen like inclusive leave arrangements, workshops that help create an inclusive and safe work environment and using more inclusive language."
Program
17.45 walk in / dinner
18.30 Intro Girl Code by Ineke Scheffers
18.35 Intro De Voorhoede
18.40 First talk, speaker to be announced
19.00 Second talk, OPEN SPEAKER CALL
19.20 Third talk, OPEN SPEAKER CALL
19.40 Q&A with all speakers back on stage
20.00 - 21.00 drinks, snacks, mingle
OPEN SPEAKER CALL
Does the topic 'Inclusive Design & Accessible Web Development' get you excited? Do you have a talk about the topic, a demo you could give of one of your inclusive and accessible apps, or a website or app to increase accessibility to an inclusive product, can you show us a tool you like to use to test your designs/code, have best practices in a FE-framework you use like React, Vue.js or any other framework?
Don't be shy: apply for one of the open speaker spots asap! You can be a junior developer with little speaker experience, or a senior who's used to giving Ted talks. This stage is inclusive and very welcoming for anyone with an interesting talk to give. To apply: send in 2-3 sentences what your talk will be about to ineke.scheffers@hotmail.com (Girl Code host) or in a DM on Meetup.