The challenge: the low-threshold presentation of extensive journalistic research
The online Rotterdam magazine Vers Beton is frequently visited for their articles about politics, culture and urban development. For their research into who has the power concerning construction projects in Rotterdam, De Bouwende Macht, Vers Beton also wants to appeal to people who will not automatically dive into the long reads. In a playful way, they want to introduce a broad audience to De Bouwende Macht.
The solution: a wizard as a game
In collaboration with journalist and illustrator we developed the game 'Bouwen is Macht'.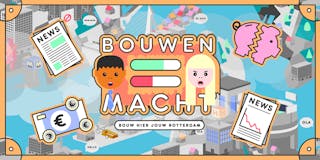 Through questions about various construction projects in Rotterdam, the user can influence the formation of the city. Based on their chosen answer, changes occur in the map of Rotterdam. At the end of the game, users are presented with a postcard of 'their' Rotterdam, which they can share on social media.